Sibelius - Separate Stems For All The Notes In A Chord?
#1
Posted 21 April 2012 - 05:41 PM
---
#2
Posted 21 April 2012 - 07:55 PM
yes, you have 4 voices, Blue (1), Green (2), Orange (3), Purple (4)
write one voice, then click 2 on keypad and write 2nd voice, click 3 and write 3rd voice etc.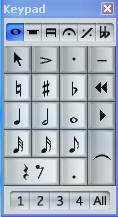 it should look like this:
To change beam up or down, select note and click X
---
#3
Posted 22 April 2012 - 04:22 AM
Thank you very much SYS65, that worked. But now all notes in the chord are aligned as vertically as possible by Sibelius, sometimes making them collide. Does anyody know how to make more horizontal space between the voices (as Bach did) so they don't collide like in the picture?

Also, any ideas on how I can connect the two staves with a dotted line?

---
#4
Posted 22 April 2012 - 01:25 PM
In Properties -> General, you have your Show settings with X/Y values to move each note,
but yes, individual beams means individual voices in not only a matter of visual aspect, your example image is not a correct notation.
---
#5
Posted 22 April 2012 - 02:08 PM
Many thanks! I need to write these examples for a research paper on Bach's solo violin music, so I'm only trying to follow the edition I have as closely as possible; as we know, Bach insisted on having separate stems for all the notes in a chord. For this purpose it's correct, even if it's an outdated practice.

If anybody knows how to connect staves with doted barlines, please let me know.

---
#6
Posted 24 April 2012 - 03:18 AM
Inkpen

I did it pretty convincingy in Paint, haha.
---
#7
Posted 07 October 2012 - 08:15 PM
Ummm....If my memory serves me correct, doesn't sibelius have a feature for that?

---
---
0 user(s) are reading this topic
0 members, 0 guests, 0 anonymous users